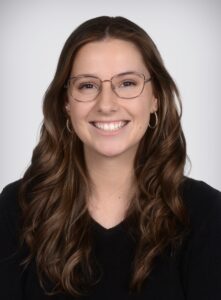 Lauren Sloss joined Life with Cancer in November 2023 as a Care Coordinator III. She has three years of healthcare experience working with a Pediatric Dental office and completing a nurse externship at Inova Fairfax Hospital on Medical-Surgical Telemetry. Lauren also has had the opportunity to meet her nursing clinicals in various hospital units such as Labor and Delivery, Postpartum, Pediatrics, and Psychiatry. She is working on her bachelor's degree in health sciences and is expected to graduate in May 2024. In the future, she would like to pursue her master's degree in healthcare administration.
Lauren is very excited to join Inova Schar's multidisciplinary team and work towards ensuring cancer patients and their families get the support and care they need. During her nursing externship, she realized her interests aligned more with the logistics of medicine, developing and streamlining processes, and seeing the difference in patient care from back-end support. She hopes to use her undergraduate and externship experience, healthcare administration knowledge, and future master's to build relationships with patients. Ensuring healthcare continues to move in a positive direction, acknowledging that each patient has their own story and deserves a support system for whatever their journey may be.
In her free time, Lauren enjoys time with friends and family, watching movies, listening to classic rock, crocheting, snowboarding, and playing with her collie Sophie!