Teens with a Parent or Loved One with Cancer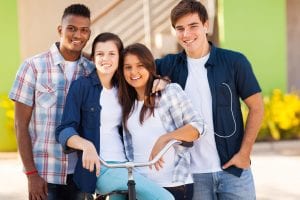 If you are a teen whose parent or other loved one has cancer, you may be wondering how you can help out more at home and still keep up with friends, activities, and school. Or you may be wondering how to manage the feelings you are experiencing or changes happening in the family. You might be thinking this:
What's going to happen to Dad?
Are my parents telling me everything?
How is this going to affect my life?
I just want us to be normal.
How can I help?
If you are a parent who has cancer or there is another person in your teen's life who has cancer, you may be asking yourself this:
As a parent, how do I tell my teen that I have cancer?
What behavior should I watch for?
What's the best way to support my teen?
How can I help my teen feel comfortable asking questions?
How can I keep a normal life for my teen and still ask for his or her help?
Contact us to help you sort through some of these questions and more, at no cost.
---
How We Can Help
Life with Cancer can help teens and their parents manage emotions—and can suggest ways for your family to talk about cancer and the changes that you and your family may be experiencing.
Counseling & Support
Individual and family counseling is available for parents, a child or teen with cancer, siblings, and any other significant person in the patient's life. Connect with us—at no charge:
Make an appointment
Our Programs
Other programs for parents include classes on stress management, mindfulness, art therapy, fitness, and nutrition that can nurture resilience. Contact us.
Register for Programs or Groups
Resources
Life With Cancer Tips
Books
A Mom of Many Hats, by Debbie Fink and Lisa Perea Hane
My Parent Has Cancer and it Really Sucks. Real-Life Advice From Real-Life Teens, by Marc Silver and Maya Silver
Through My Eyes. A Journal for Teens, by Linda Kranz
Online Resources
---
Get Help For
If you are affected by cancer, we invite you to connect with us—whether you're a patient, family member, or friend.