"What!!! I have cancer??!!" Strong emotions that teens often describe include disbelief, fear, sadness, guilt, and anger. Adolescents with cancer are in a hard place…no longer children but not yet young adults. It can be a challenge to balance the need to be independent with an increased need to rely on your parents. Teenagers often have support from some of their friends but also can struggle with feeling abandoned by others.
If you are an adolescent with cancer, you might be having some of these thoughts: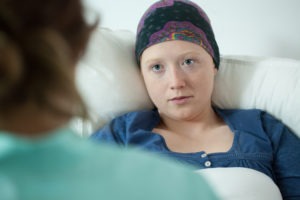 Why am I being treated with kids?
I'm scared.
What am I going to tell my friends?
I'm really tired of people telling me what to do.
I heard my mother crying last night, and I feel bad.
As a parent of a teenager with cancer, you might have questions such as these:
What symptoms should I watch for?
How do I support my teen?
How do I get my teen to spend less time on the computer and phone?
How can I help my teen learn to take charge of his or her own health?
What lasting effects will my teenager have?
Contact us to help you sort through some of these questions and more, at no cost.
---
How We Can Help
If you are a teen who is newly diagnosed, in treatment, or a survivor, we can guide you on what to ask and what to expect. We can give you ways to manage your emotions and relationships, talk with family and friends, meet other teens that may be in a similar situation, and learn how to stand up for yourself.
For parents, we can discuss options to support your child, to nurture his or her independence while still providing a foundation of support, to manage your own feelings, and to help your teen navigate their "new normal."
Counseling & Support
Individual and family counseling is available for parents, teens with cancer, siblings, and any other significant person in the patient's life. Connect with us—at no charge:
Make an Appointment
Our Programs
See our full list and calendar.
Conference for Teen and Young Adult Survivors of Childhood Cancer
This all-day educational event focuses on survivorship issues, late effects, and leading healthy lives after treatment for pediatric cancer. Multiple area hospital and childhood cancer organizations are co-sponsors, and a college scholarship award program is associated with the conference.
SCCIP Program
For parents with children and teens who are newly diagnosed, this three-session program includes proven techniques and tools to help you manage more effectively.
Programs on stress management, mindfulness, expressive arts, fitness, and nutrition that can help nurture resilience can also be arranged. Contact us.
Register for Programs or Groups
Resources
Life with Cancer Resources
Pediatric Oncology Patients and their Families: A comprehensive, handpicked list of resources to assist your child/teen and family, including information on disease and treatment, camps, and special wishes, as well as financial, transportation, wigs, and school resources.
Books
The C-Word: Teenagers and Their Families Living with Cancer, by Elena Dorfman
---
Get Help For
If you are affected by cancer, we invite you to connect with us—whether you're a patient, family member, or friend.