18th Annual Raccoon Run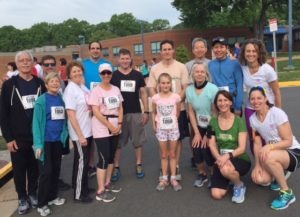 Pictured here is the Life with Cancer Team at this year's Raccoon Run. Thank you Mantua Kids Care Club, the Young Hearts and 2Unstoppable.org for your enthusiastic commitment to Life with Cancer.
The 20th Annual Lobster Extravaganza
The 20th Annual Lobster Extravaganza, celebrated it's 20th year on May 5, 2018. More than 1,000 guests came to support Life with Cancer. Funds were raised through the live auction, silent auction, sponsorships, ticket sales and through a pledge following a video featuring the cancer journey of one of our own. Click here to view the video.   Click here to donate.
Jukebox Diner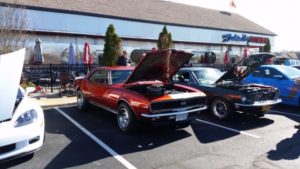 The Jukebox Diner, 8637 Sudley Road, Manassas, VA opened it's doors and hearts to another great community event in support of Life with Cancer. Thank you Joe,  Bonnie, and Jim. Great food, great cars, great experience.
---
2 Unstoppable Goes Live on Good Morning Washington. Watch the segment.
Breakaway Fitness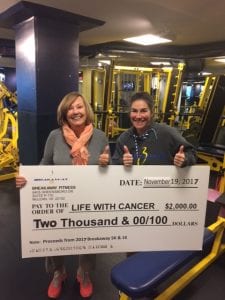 It takes a community to make a difference. For the third year in a row this community is growing at Breakaway Fitness. Thanks to the enthusiasm of a couple of women this race raised over two thousand dollars which supports our ability to offer programs at no cost, like our fitness classes at Life with Cancer. Thank you Jean Ann Gilliland, Christa Dalakis and the whole Breakaway Fitness community.
---
Total Futbol Comes Through Again

This amazing team has come through for Life with Cancer again, raising $1,200. No matter what the age, the power of teamwork can make a BIG difference. We are grateful to Total Futbol for their commitment to our cancer community.
Team Mathias Pledges $50K to the Inova Schar Cancer Institute and Life with Cancer.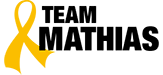 Mathias Giordano was diagnosed with Osteosarcoma, in July 2012 at the age of 11 and battled the disease for 29 months. Even while fighting for his life, he was determined to make a difference for others and spread awareness about pediatric cancer. His courage and spirit inspired everyone he met and was the spark that created Team Mathias. Guided by what was important to Mathias, the mission of Team Mathias is to help support families and research efforts while raising awareness for ALL childhood cancers. Team Mathias has pledged $50,ooo to help support families impacted by cancer. Thank you, Team Mathias!
---
The Mantua Neighborhood Community Does it Again!

We have some of the best neighbors in town! The Mantua Elementary School Kids Care Club and the W.T. Woodson Young Hearts Club recently concluded their 17th annual Raccoon 5K and 1-mile Fun Run. Since it's inception, this race has donated more than $150,000 in support of Life with Cancer programs and services. The race began and continues to honor the memory of a great community member,  Roberta Romano, beloved wife, teacher, mother, and friend. We are so grateful to have the support of one of our neighboring communities.
---
Little Ones Make Big Things Happen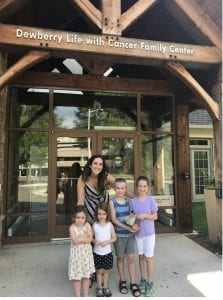 We want to give a big thank you to this amazing group of children for hosting a bake sale and raising more than $100 for Life With Cancer! They came up with the idea on their walk to school; we are so grateful for their generosity. Pictured here are Edie, Kate, Cole and Mary, along with Michelle Bronzo, MS, LPC, CT.
---
We Will Survive Cancer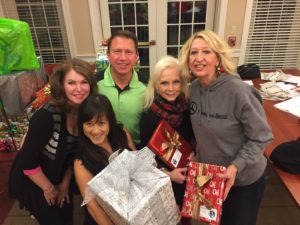 The members of We Will Survive Cancer (WWSC) raise money all year long to bring holiday cheer to families with cancer who may not otherwise be able to enjoy the gift-giving aspect of the season. This year, nearly 20 of our families provided "wish lists" and WWSC shopped to complete nearly everything on their lists. One by one our families picked up their gifts, amazed at the kindness, thoughtfulness and generosity of this spirited organization. Cancer can be devastating in so many ways: emotionally and financially. This year many of our families, as well as others throughout the country, will experience a brighter holiday season because of WWSC. Thank you! Learn more about WWSC.
---
Santa's Ride
Toys, books, puzzles and bicycles were delivered to our Family Center by Fairfax County Police Officers Chuck Reinhard and David Pierce. The gifts were a result of the efforts of the many community groups including: Fairfax County Motor Squad, Fairfax City, Herndon, Vienna and Metropolitan Washington Airports Authority Police Departments, Fairfax County and Falls Church Sheriff's Offices, Virginia State Police, Cedar Point, Daniels Run, Fox Mill, Groveton, Holy Spirit, North Springfield, Oakton, Poplar Tree, Wolf Trap and Woodburn Elementary schools. Thank you all for helping to make the holidays a little brighter for patients and families with cancer in our community.
---
Fairfax Fraternal Order of Police (FOP)-Lodge 77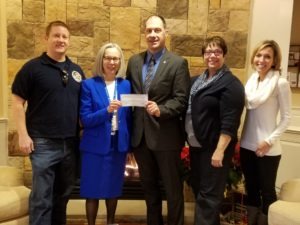 On December 16, 2016 Fairfax FOP 77 President, Brad Carruthers and Vice President, Rich Barron stopped by to present a $10,000 donation to Life with Cancer. Life with Cancer has enjoyed a long-time partnership with the FOP. In addition to their financial support, it's members volunteer at our annual Lobster Extravaganza. We are incredibly grateful to the members of the Fairfax FOP.
---
17th Annual Clifton Lions Labor Day Car Show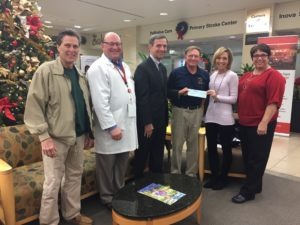 The Clifton Lion's Club has been affiliated with Life with Cancer since 2007. On December 13 they presented Life with Cancer with a check for $10,000, bringing the grand total raised from their annual car show to $141,968. We are grateful to have the support of this outstanding organization that supports the community in so many ways. Pictured here, Clifton Lions Past President, Jim Chesley, Chief Medical Officer at Inova Fair Oaks Hospital,  Dr. Michael Lynch, Current President Roy Radcliffe, 2017 President John Seaberg, Amy Richards, Leadership Giving Director, Life with Cancer and Catherine Intartaglia, Community Outreach Coordinator, Life with Cancer.
---
BK Racing Partners with Life with Cancer
BK Racing pro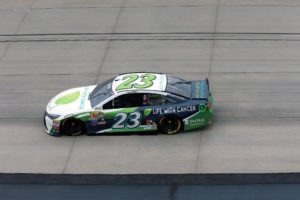 moted Life with Cancer on David Ragan's No. 23 Toyota Camry at Dover International Speedway on October 2nd. We may be biased, but what an amazing looking race car! We are proud to have partnered with BK Racing.
---
OneLight Dance Performance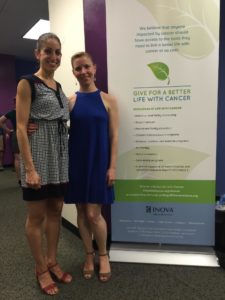 OneLight's "Be the One" was incredible!  Amazing artists, incredible audience, fantastic energy and an awesome cause. Thanks to all who attended and contributed to the success of "Be the One", an uplifting dance performance by OneLight dance company, benefiting Life with Cancer. Pictured right, OneLight Director, Elizabeth Deseguirant with dancer and Life with Cancer Oncology Therapist, Michelle Ferretti.
---