When you give to Life with Cancer, your donation goes directly to support our programs and services provided by oncology therapists, oncology nurse navigators, and other allied health professionals. See what we do.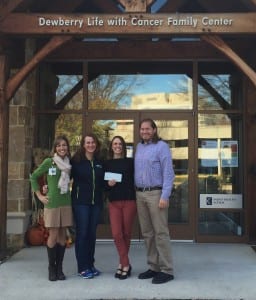 Your generosity helps guide people through what often is a most challenging time of their lives and we are grateful for your kindness.
Life with Cancer's Board of Directors is composed of community leaders who not only support Life with Cancer financially but also ensure the proper oversight of your donation and monitor our endowment.
Give Now
Throughout 2019, Inova's nationally recognized Life with Cancer program continued to rely on the generosity of dedicated people like you. At Inova Schar Cancer Institute's new flagship facility, at the Dewberry Life with Cancer Family Center (aka Carolyn's House) in Fairfax, and at all Inova cancer care sites across Northern Virginia, you helped connect people of all ages — patients as well as loved ones — with vital education and counseling services, yoga and exercise classes, nutrition counseling, music and art therapy, meditation, mental health support, bereavement groups and many other integrative approaches to wellness. With the exception of psychiatry, massage and acupuncture, Life with Cancer services are available to anyone affected by cancer, at no cost to patients or their families.
Although research has demonstrated that these holistic and evidenced-based practices are every bit as critical to healing as medicine is, most of these costs are not reimbursed by insurance. Your support for Life with Cancer has radically changed people's lives during and after their cancer treatment.
In 2019 alone, Life with Cancer —
Reached 40,929 people with cancer and their loved ones, including 64 through our telehealth program
Offered 32,734 programs, events, appointments, classes and consults
Hosted 28 different support groups for patients, caregivers, family members and children, with a total attendance of 3,151
Answered 3,462 calls to the Life with Cancer Connect line, the highest number since it started in 2014
Had 1,075 visits to Life with Cancer's psycho-oncologist
7,520 people took part in exercise/activity programs
3,218 children, teens, and adults served through Life With Cancer's children and adolescent program
With your help, Life with Cancer was able to make a number of additions to our program in 2019:
A second full-time oncology dietitian
Group Weight Management After Breast Cancer class
One Body, One Mind, One Me, a class on managing side effects from cancer treatment using a mindfulness approach
Expansion of Inova Traditional Chinese Medicine from 2 locations to 4
Give Now