When you give to Life with Cancer, your donation goes directly to support our programs and services provided by oncology therapists, oncology nurse navigators, and other allied health professionals. See what we do.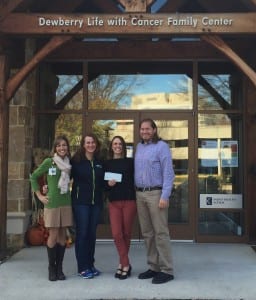 Your generosity helps guide people through what often is a most challenging time of their lives and we are grateful for your kindness.
Life with Cancer's Board of Directors is composed of community leaders who not only support Life with Cancer financially but also ensure the proper oversight of your donation and monitor our endowment.
Give Now
In 2014, your donations provided the following:
32,000 direct service hours.
8,580 counseling and educational consultations by oncology therapists and nurse navigators.
7,700 unique individuals served.
4,772 individuals and family members seen while they were inpatients.
Participation by 3,790 children, teens, and parents in 47 support and education group sessions and 3,900 counseling sessions.
1,947 Hispanic participants served in our counseling and navigation programs.
1,798 educational classes, groups, and wellness programs with 12,197 participants.
The new Life with Cancer Connect Line, which assisted 334 callers in just four months from its launch in August 2014.
79 community outreach events, including health fairs, presentations, webinars, and conferences for more than 4,000 people.
Conferences that reached more than 100 adolescent and young adult survivors.
Life with Cancer's 5th Annual Hispanic Survivorship Conference, which served 51 participants.
Give Now