We can help you meet the challenges of living with cancer by providing you and your loved ones with education, information and support, free of charge, no matter where you live or receive treatment.
Explore the many ways that Life with Cancer can make your day-to-day life easier and help you connect with a community of people who face many of the same challenges you do.
Life with Cancer Connect
A direct link to your support team
703-206-5433 (LIFE)
lifewithcancer@inova.org
A Workshop for Professionals
Cognitive Behavioral Treatment for Insomnia (CBT-I)
June 8-9, 2018
Featuring Michael Perlis, PhD and Donn Posner, PhD
To make your CBT-I Workshop donation
 

April Highlights
Focus Group: 10 Participants Needed
Thursday, April 19, 6-7:30
Life with Cancer Family Center
8411 Pennell Street | Fairfax, VA 22031
The American Society of Clinical Oncology (ASCO) supports patient education through its patient information website, Cancer.Net, and through its series of print materials, ASCO Answers. In order to ensure that the materials ASCO creates are most helpful to patients, they will be conducting a focus group to get patient feedback on their guides and fact sheets. Who may participate? Any individuals at any point in the cancer experience, with different diagnoses, including breast cancer, lung cancer, and prostate cancer. Light snacks and refreshments will be provided. Participants will receive a $50 Visa gift card. Questions? Contact Greg Guthrie, 571-483-1378; greg.guthrie@asco.org. Register at LifewithCancer.org or call 703.698.2534.
Need Sleep?
Monday, April 9, 10:30am-12pm, Fairfax. Learn evidence-based tools for getting back to sleep. Registration is required 
MediMap: How Genetic Information can Inform Your Health
Thursday, April 12, 6:30-8 pm, Fairfax. Learn about MediMap, a pharmacogenomics (also called PGx) test that use your genetic information to help us understand how individuals may respond to certain medications. Registration is required 
Endocrine Therapy and Bone Health
Monday, April 16, 4-5pm, Fair Oaks. Margaret Howard, MD will discuss current recommendations for bone health for women on endocrine therapy. Registration is required 
Genomics and GI Cancers
Monday, April 16, 6-7:30 pm, Fairfax. Timothy Cannon, MD will discuss recent advances in GI cancer genomics and the role genomics plays in personalized medicine. Registration is required 
Strategies for Improving Brain Fog
Thursdays, April 19-May 10, 10-11 am, Fairfax. Understand the cognitive consequences of cancer treatment and learn strategies to mitigate its impact. Registration is required 
Like Nascar? Collect Matchbox Cars? Want to Support Life with Cancer?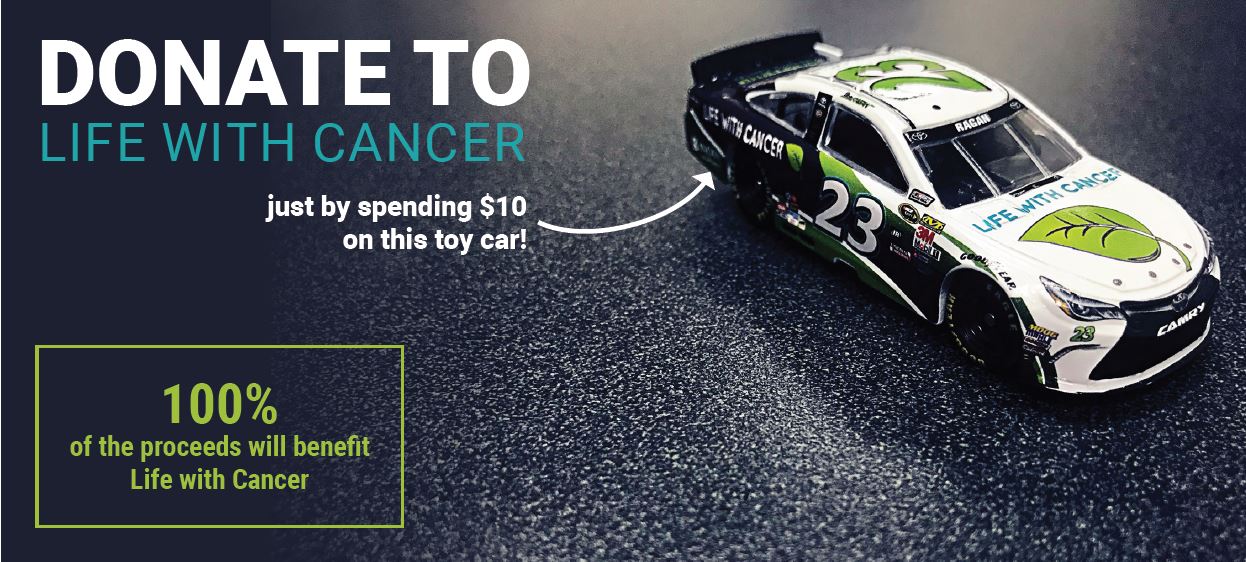 Make a $10 donation to Life with Cancer and receive an authentic replica of the Life with Cancer race car from the Nascar Sprint Cup series!
Cars are available at the Life with Cancer Family Center, at Inova hospital gift shops, or by directly contacting Jim Chesley at jcchesley@aol.com. All payments are tax deductible and 100% of the proceeds benefit Life with Cancer.