Please note, our class schedule and office hours have been changed due to weather concerns.  For full details, click here.
We can help you meet the challenges of living with cancer by providing you and your loved ones with education, information and support, free of charge, no matter where you live or receive treatment.
Explore the many ways that Life with Cancer can make your day-to-day life easier and help you connect with a community of people who face many of the same challenges you do.
Life with Cancer Connect
A direct link to your support team
703-206-5433 (LIFE)
lifewithcancer@inova.org
Participants Needed for Focus Group!
 A.S.A.P.!
Do you want to participate in a focus group on how your medical record is shared? The University of Michigan and the Inova Schar Cancer Institute are partnering on a federally-funded research project. We are asking cancer patients and survivors to share your thoughts, feelings, and opinions on how your medical record is shared and used outside of your primary medical setting. Patients at all stages are eligible to participate.
-Get up to $125 for attending the focus group & completing 1 survey from home.
-Be treated to breakfast and lunch at the focus group. Hear clinical, legal and ethics experts speak on this important topic.
When: Saturday, April 7, 2018, 8:30am-3pm
Where: Inova Center for Personalized Health, 3225 Gallows Road, Fairfax, VA 22031
For more information: email rdecastr@med.umich.edu.
To apply: email recastr@med.umich.edu or call 248-416-3867.
Thank you for considering our invitation. We hope to hear from you very soon!
March Highlights
Book Group: "A Cancer in the Family", Wed, March 21, 6-7:30pm, Life with Cancer Fair Oaks 

Oncologist and cancer gene hunter Theo Ross delivers the first authoritative, go-to for people facing a genetic predisposition for cancer. Facilitator: Maureen Broderick. Registration is required 
Pediatric Oncology Parent Night: Help for Parents, Tues, March 27, 6:30-8pm, Life with Cancer Family Center
Help for parents of children diagnosed with Cancer; learn tips and tools for coping with distressing aspects of cancer. Please Register with Cathy Bottrell, LCSW at cathy.bottrell@inova.org or 703-531-1515.
Like Nascar? Collect Matchbox Cars? Want to Support Life with Cancer?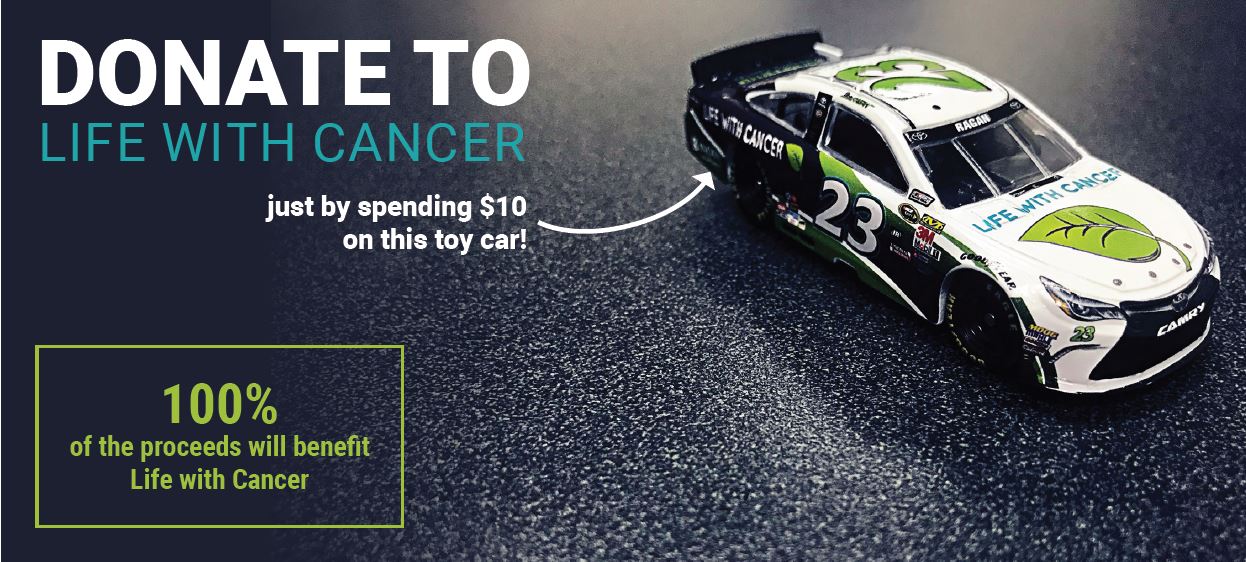 Make a $10 donation to Life with Cancer and receive an authentic replica of the Life with Cancer race car from the Nascar Sprint Cup series!
Cars are available at the Life with Cancer Family Center, at Inova hospital gift shops, or by directly contacting Jim Chesley at jcchesley@aol.com. All payments are tax deductible and 100% of the proceeds benefit Life with Cancer.