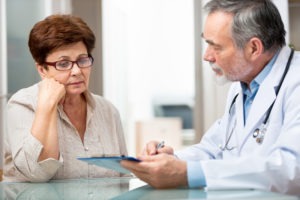 When you've just been diagnosed with cancer, it may feel hard to know where to start. You might be asking questions like these:
How did I get cancer?
How do I find the right doctor? The right treatment?
How do I ask for second opinions?
How do I manage these emotions?
What does this mean for my job? How will I pay for everything?
How do I tell my family? My boss? My friends?
Have questions? Contact us to help you sort through some of these questions and more, at no cost.
---
How We Can Help
Educate You.
Our oncology nurse navigators can educate you on disease and treatments, managing side effects, clinical trials, lab values, procedures, how to navigate the medical system, and more.
Support You Emotionally.
Our oncology therapists can guide you and your family through the emotional roller coaster a cancer diagnosis can bring. They can help you to manage your emotional health, reduce stress, strengthen your network of support, communicate more effectively, solve problems, and create a wellness plan…at no charge.
You can also connect with our psychiatrist & psycho-oncologist for a fee, with a referral from one of our therapists or your physician; all major healthcare insurance plans are accepted.
Empower & Connect You.
Join a class or group to connect with others and learn about healthy living, nutrition, exercise, insomnia, managing stress and strong emotions, sexual health, disease and treatments, and financial matters.
---
Discover What We Offer For
As you manage your cancer, please explore these resources for help. And remember, you can always call on Life with Cancer for help with medical and emotional issues…
"I want to thank you for your assistance concerning information on a good oncologist to treat my wife. When she was first diagnosed, I was lost and confused about what to do and who to see. With your recommendations, we found a very good doctor and she has/is receiving the necessary treatment/care. Her response to the treatment is very favorable and we expect full recovery. Again, I appreciate your assistance; I couldn't have found quality care without it."

—Husband of Patient
---
Resources
Unsure where to start? Contact us today, and we can help you along your journey.