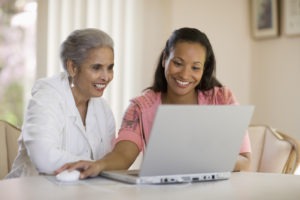 As you navigate cancer, you might not know what to expect or what questions to ask. Rest assured, that's normal—and we are here to guide you. Get help, whether you are:
Navigating a new phase:
Facing special needs:
In the community:
How We Can Help
Educate & Support You.
A cancer diagnosis can bring many changes to your life. As you navigate treatment and side effects and manage emotions, our trained and experienced oncology nurse navigators and oncology therapists can assist. All of our services, except for our psychiatrist/psycho-oncologist and massage, are free.
Schedule an Appointment
Empower & Connect You.
Explore our programs and classes on disease, treatment, nutrition, stress management, and healthy living. You may come to our Family Center or, if you are in one of the five Northern Virginia hospitals we serve, we will come to you.
At Life with Cancer, there's a sense of coming home and a feeling that people around you are ready to support you in any way:
Resources
Drugs
Chemocare.com: Describes every aspect of chemotherapy, including chemotherapy drugs and managing side effects. You can call an Answer Line or peer mentor and talk to someone who understands.
Fertility and Sexual Health
LIVESTRONG Fertility: Shares information on men's and women's sexual health, fertility risks, options, and discounts on fertility services and medications.
Finances
Insurance Issues
Research and Care
National Cancer Institute (NCI): The federal government's principal agency for cancer research and training, NCI supports a national network of cancer centers. It shares information on cancer detection, diagnosis, treatment, prevention, control, palliative care, and survivorship and is part of the National Institutes of Health (NIH).
National Comprehensive Cancer Network (NCCN): A not-for-profit alliance of 26 of the world's leading cancer centers devoted to patient care, research, and education. World-renowned experts from NCCN Member Institutions diagnose and treat patients with a broad spectrum of cancers and are recognized for dealing with complex, aggressive, or rare cancers. NCCN programs offer access to expert physicians, superior treatment, and quality and safety initiatives that continuously improve cancer care.
Genito-Urinary Multi-Disciplinary D.C. Regional Oncology Project (GUMDROP): A non-profit based in the Washington DC Metro area that was organized to enhance patient outcomes through greater cancer clinical trial awareness. The GUMDROP website, www.gumdroptrials.org, provides a central location to learn more about dozens of current clinical trials that apply specifically to prostate, bladder and kidney cancers.
Work
Cancer and Careers: Empowers and educates people with cancer to thrive in their workplace, by providing expert advice, interactive tools, and educational events.
"You have touched the lives of so many of us diagnosed with cancer, with the compelling story you've shared about your journey with cancer as a young woman, and the solid recommendations and support you've provided to each of us in the group. Thank you for all you do for us."

—Patient
Unsure where to start? Contact us today, and we can help you along your journey.