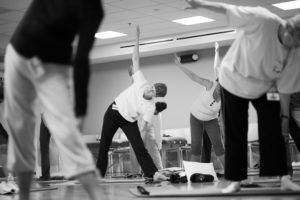 People can live a long time with advanced disease. If the focus of your treatment is keeping your disease stable, you may be asking questions like these:
How can I manage side effects or pain?
How do I control my fears, maintain hope?
What can I do to keep healthy?
What clinical trials are available?
How do I set goals, stay engaged in living?
We can help you live with cancer and find a new normal.
Have questions? Contact us to help you sort through some of these questions and more, at no cost.
---
How We Can Help
Educate You.
Our oncology nurse navigators can help you explore strategies for side effect management, clinical trials, and options for healthy living. They can speak to family and friends to help them better understand your disease.
Support You Emotionally.
Our skilled and caring oncology therapists can help you learn how to live with an unpredictable disease, identify what is meaningful to you, set goals, and stay engaged in living. They can also provide strategies to maintain your emotional health. You can explore ideas on how to create and live your legacy and understand advance directives. Support for family members and friends is also available.
With a referral from your physician or one of our oncology therapists, our psychiatrist/psycho-oncologist can meet with you to assess your mood and if medication might be helpful. There is a fee for this service and all major health plans are accepted.
Empower & Connect You.
Learn what you need to know to stay healthy, exercise, eat well, and reduce stress. Explore Reiki, meditation, guided imagery, and expressive arts—and connect with others—in our programs and groups. Talk with a financial planner.
Register for Programs & Groups
---
Discover What We Offer For
As you manage your cancer, please explore these resources for help. And remember, you can always call on Life with Cancer for help with medical and emotional issues…
---
Resources
"Thanks to you I am very positive about all the things I had originally feared, but I don't even think you could put a positive spin on this electrolyte solution. I am no longer focused on all the big things that worried me. Thank you again for being so patient with us. You have truly made it a lot easier for me to keep up my spirits."

—Wife of Patient
Unsure where to start? Contact us today, and we can help you along your journey.