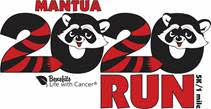 Dear Friends and Neighbors,
It is hard to believe this year is the 20th anniversary of the Raccoon Run benefiting Life with Cancer! This event was birthed 20 years ago when we lost a dear friend, neighbor, Mantua teacher, Roberta Romano to breast cancer. Her courageous battle and beautiful spirit drove us to create this event to commemorate her lasting legacy at Mantua and support Life with Cancer who provides education, counseling, and support to patients and families living with cancer-free of charge regardless of where they receive treatment. To learn more visit www.lifewithcancer.org
We were so excited to celebrate this significant milestone with all of you, but as we all know, the current global situation has made it impossible to have the event on Mother's Day weekend this year. However, we thoroughly believe in the commitment and creativity of this community and we know there are still ways we can show our support and share a common experience. So, this year we will be doing a virtual run! Even though there are no Start/Finish lines, t-shirts or water bottles, we can still come together as a community and make a difference in the lives of those living with cancer and honor those who have lost their battle.
"Register" for the Raccoon Run by making a donation at http://www.raccoonrun.org
Go on a run or walk with your family on May 9th
Share photos of your "at-home" Raccoon Run with us – BE CREATIVE!!
A winning photo and family will be selected for a special prize
We recognize that due to the present COVID-19 pandemic many of us are facing loss, fear, and uncertainty. It's times like these where we need to stand even stronger together as a community. The reality is cancer diagnoses didn't go on hold when the pandemic broke out. There are still many individuals and families in our community facing a cancer diagnosis and this pandemic. Let's show them that they are not alone!
We ask and hope that you will remain engaged with us throughout this difficult period. We can do this—separated—but together!
Please go to the Register or Donate page on our website www.raccoonrun.org to "register" making a donation to LWC.
Thank you for your friendship and support.
With sincere gratitude,
Jennifer and Joyce