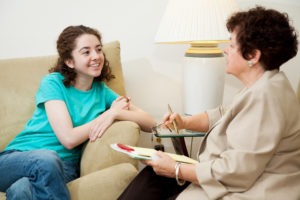 If a family member, close friend, or loved one of your child or teen is diagnosed with cancer, it may feel confusing where to start. If you are a parent who has been diagnosed with cancer, providing support to your child or teen may feel especially difficult and overwhelming, or you may be worried about how to tell your child about your diagnosis and treatment.
When facing a cancer diagnosis, we are here to support you—all at no cost!
---
How We Can Help
If your child or teen needs support adjusting to a loved one's cancer diagnosis or the changes related to treatment or survivorship, or if your child or teen is dealing with the loss of a loved one due to cancer, we are here to help! Our team can guide your child or teen with adjustment and in managing the many emotions that they may experience during this time.
Here are some of the many resources that we have to offer:
Individual Therapy
We offer individual and/or art therapy to children and teens with loved ones with cancer by licensed therapists in the outpatient setting and via telemedicine*, regardless of where their loved one is receiving cancer treatment. Our therapists provide evidence-based interventions to help with adjustment, anxiety, mood and behavior changes, grief and loss, and more.
Art therapy uses a combination of counseling and the process of art making to promote self-expression and foster healing for all ages. When words alone cannot fully communicate emotions and experiences, art therapy can help children and teens explore their feelings in a tangible, creative way.
Parent Consultations
We know that providing support to parents is an important part of supporting children and teens. We offer parent consultations both in-person and via telemedicine* to parents and caregivers to discuss any concerns you may have about your child or teen and determine the most helpful next steps. Parent consultations can be helpful for topics such as talking to your child about your diagnosis and treatment, supporting adjustment and routines, and managing challenging behaviors.
Programs, Education, & Resources
Whether you need guidance around a specific topic or would like information about resources in the community, we are here to help guide you. We offer guidance to families, based on your needs. We also continue to develop programs to meet the needs of our families, so please check our website and our calendar for the most updated offerings. If you don't see your need specifically addressed on our website, please reach out to us, and we would be happy to discuss how we can support you!
Need support? Contact us to get connected!
*At this time, we are only able to provide telemedicine services to individuals living in Virginia and DC, due to license restrictions.
---
More Information