Children with a Parent or Loved One with Cancer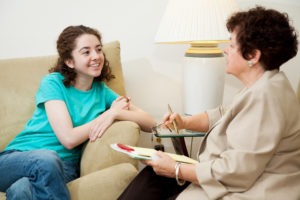 If a family member or close friend of your child has cancer, there are many ways for you to support your child. If you're a parent who has been diagnosed with cancer, the task may seem especially hard, but the caring staff at Life with Cancer can guide you through it.
You might face questions like these:
How do I talk to my child about cancer? What questions might they have?
How much should I explain about my treatment?
How do I know when my child needs help?
How do I keep life as normal as possible for my child?
My child seems scared; what do I do?
Contact us to help you sort through these questions
and more, at no cost.
---
How We Can Help
We can help you find the age-appropriate words to discuss cancer and cancer treatment with your child, identify various ways to support your child and ease his or her fears, and give you strategies to create a "new normal" for your family.
Counseling & Support
When there is cancer in the family, individual and family counseling is available for you as parents, your children, and any other significant person in the patient's life. Connect with us—at no charge:
Make an Appointment
Our Programs
See our full list and calendar.
Curious About Cancer
This group offers therapeutic support for children ages 5-12 who have a loved one with cancer. Through age-appropriate discussion, art therapy, and meaningful activities, children will connect with peers and learn ways to manage the emotions, challenges, and many changes that often occur when someone in the family has cancer.
Kid and Sib Day
Kid and Sib Day is designed for children ages 5-12 who are in treatment and their siblings (ages 5-12). This program includes art therapy and other supportive activities, time for sharing feelings and talking about changes in the family, opportunities to connect with other children with cancer and their siblings, and time for fun.
Other programs for parents include classes on stress management, mindfulness, art therapy, fitness, and nutrition that can nurture resilience. Contact us.
Register for Programs or Groups
Resources
Life With Cancer Tips
Books
All About Me. A Keepsake Journal for Kids., by Linda Kranz
Imagine What's Possible. Use the Power of Your Mind to Take Control of Your Life During Cancer, by Gary and Jarrod Skole
The Rainbow Feelings of Cancer. A Book for Children Who Have a Loved One With Cancer, by Carrie Martin and Chia Martin
When Someone You Love Has Cancer. A Guide to Help Kids Cope, by Alaric Lewis
---
Get Help For
If you are affected by cancer, we invite you to connect with us—whether you're a patient, family member, or friend.