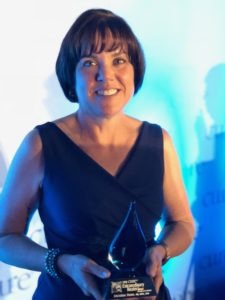 Life with Cancer Nurse Receives Prestigious Award
Christine Stone RN, MSN, OCN, was awarded the 2018 Cure Magazine Extraordinary Healer Award at the Oncology Nurses Society Annual Conference.  Christine was surrounded and celebrated by family, Inova colleagues and hundreds of oncology nurses from throughout the country. It is an INCREDIBLE honor and testament to Christine's incredible work and career as an oncology nurse navigator to be recognized as the Extraordinary Healer across the entire nation's Oncology Nurses. Please join me in congratulating and celebrating Christine in this tremendous accomplishment.
---
Community Acupuncture at Life with Cancer
Beginning in June 2018 a naturopathic physician and licensed acupuncturist with Inova's Traditional Chinese Medicine Center (TCM) will provide acupuncture, a holistic health technique that involves the insertion of ultrafine, sterile needles into specific points in the body to achieve a certain therapeutic effect. Built on a foundation of more than 3,000 years, acupuncture can help with: chemotherapy-induced nausea and vomiting; hot flashes; radiation-induced Xerostomia (dry mouth); pain; depression and anxiety; neuropathy; insomnia; and dyspnea (difficult or labored breathing).
The fee is $50 per session
-credit cards are accepted at the time of registration, prior to your appointment
-checks are accepted at time of your appointment
-Health insurance is not accepted, but TCM will provide you with documentation needed to submit the fees for reimbursement.
Wear loose clothing and bring a blanket.
For new clients, TCM is offering a discounted individual 60 minute consultation at their Ballston location for $87, prior to the community acupuncture session (this is not mandatory)> Please call TCM to schedule your consultation.
To schedule your appointment: click here and select LWC in the upper right hand corner for the location. Additionally, please select Life with Cancer under "Choose a Service" drop down. You may also call 703.698.2526.
---
Life with Cancer welcomes Registered Dietitian, Lauren Fay. 
Lauren teaches a variety of classes and provides nutrition counseling and recommendations to help support the nutrition needs of patients and caregivers before, during, and after cancer treatment.
As always, this services is free of charge. To schedule an appointment, call 703.206.5433.
---