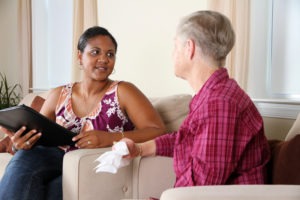 In a unique approach, Life with Cancer offers you a one-of-a-kind partnership of highly trained, sensitive professionals to meet your medical and emotional needs. We will help you learn about cancer—and support you.
Oncology Nurse Navigators
Oncology Nurse Navigators guide you on medical issues. Experienced oncology nurses can meet with you and/or your family to share information about specific cancers, provide education on managing side effects, and help you get the most from your healthcare team. Find out more about our Oncology Nurse Navigators.
Meet Our Staff
Oncology Therapists
Licensed mental health professionals, many certified in oncology, offer individual, family, and couples counseling, facilitate networking and support groups, and offer stress reduction strategies. They also lead programs on managing strong emotion, finding meaning, improving communication and problem solving. They will consult with you in the hospital or at the Life with Cancer Family Center. Find out more about our Oncology Therapists.
Meet Our Staff
Our Psychiatrist
Our Psychiatrist* is unique in the DC metropolitan area, focusing on cancer. He offers whole-person, humanistic, and patient-centered care, delivered with compassion, humility, and respect. With his strong understanding of cancer treatments and stressors, he will guide you in managing your medications and in mind-body and contemplative practices, especially in cultivating mindfulness and compassion. Find out more about our psychiatrist.
Meet Our Psychiatrist
* While all other Life with Cancer services are free, there is a charge for psychiatric services. We accept all major healthcare insurance plans. To receive psychiatric services, please bring a referral from a physician, oncology therapist, or oncology nurse navigator.
---
Have a question? Need someone to talk to? Give us a call today!