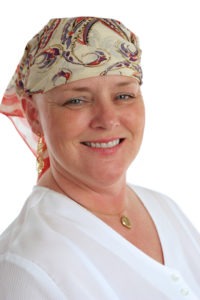 Your treatment is ending, and it's time to move forward—or so you've been told. Finishing your treatment can be exciting. However, you might still be having questions like these:
Why don't I feel back to normal like everyone expects me to be?
How do I explain to others that it may not feel "over" for me?
Is it safe to make plans for the future?
Will the cancer come back?
Who am I?
What is important to me now?
We can help you transition, for free. Contact us.
---
How We Can Help
Educate You.
Our oncology nurse navigators can talk to you about late effects, healthy living, and the importance of a survivorship care plan and how to get one.
Contact Us
Support You Emotionally.
Our oncology therapists can guide you on how to maintain your emotional health, manage stressors, return to work or school, set goals, and help family and friends understand how they can help with this transition. They can also provide strategies on how to deal with body image, sexual health, chemo brain, and fears of recurrence.
With a referral from your physician or one of our oncology therapists, our psychiatrist/psycho-oncologist can meet with you to assess your mood and see if medication might be helpful. There is a fee for this service, and all major health plans are accepted.
Make an Appointment
Empower & Connect You.
Together, we'll create a plan to regain your strength. Learn what you need to know about healthy living, insomnia, and stress management—and connect with others—in our programs and support groups.
Register for Programs & Groups
---
Discover What We Offer For
As you manage your cancer, please explore these resources for help. And remember, you can always call on Life with Cancer for help with medical and emotional issues…
---
Resources
Cancer and Careers: Empowers and educates people with cancer to thrive in their workplace, by providing expert advice, interactive tools, and educational events.
National Coalition for Cancer Survivorship: Advocates for quality cancer care and empowers cancer survivors through its publications and programs.
"Thank you for all your efforts you showed for my daughter. Through your work with her, she was able to cope better with her illness…God bless to you all for all you do for all of us! You are truly angels!"

—Father of Patient
Unsure where to start? Contact us today, and we can help you along your journey.