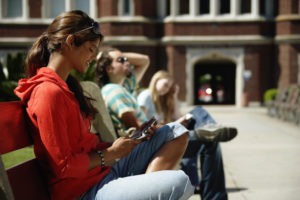 Cancer interrupts so many aspects of life, and when you are diagnosed as a young adult it can interrupt many experiences such as school or career, dating or starting a family. You may be wondering where to turn. Do these questions sound like yours?
How do I talk to my healthcare team? My friends and family?
What do I say on a date about my cancer history?
What do I say at a job interview? When should I tell my boss?
How will I pay my bills?
Who at my school can help? How do I ask for more time for my paper?
Can I still have children?
Why do I have brain fog? Is chemo brain a real thing?
What about my sexual health?
You're not alone. Did you know that more than 70,000 young Americans (ages 15-39) are diagnosed with cancer each year? We can help—and can connect you with people who understand and resources that can support and educate you (and your friends or loved ones) during and after your cancer diagnosis. All of our services are provided to you at no cost, regardless of where you are/were treated.
Contact us to help you sort through some of these questions and more, at no cost.
---
How We Can Help.
September 28, 2019- DC Metro Young Adult Cancer Survivor Conference, Fairfax, VA
Educate You.
Our oncology nurse navigators can educate you on disease and treatments, managing side effects, clinical trials, lab values, medical procedures, how to navigate the medical system, and more. Contact us.
Contact Us
Support You.
Our oncology therapists, at no cost, can guide you through the emotional issues cancer can bring. Counseling is tailored for you. Learn skills to manage stress and improve communication and relationships. Discuss fertility and sexual health.
Additional resources specific to young adults, like camps, employment, and peer support programs, are available through one of our oncology therapists. Make an appointment.
Consult with one of our therapists or your physician about getting a referral to see our psychiatrist/psycho-oncologist to assess mood and medication. (For a fee. All major health plans accepted).
Make an Appointment
Empower & Connect You.
Attend our programs or groups to learn what you need to know about cancer, healthy living, and stress management—and connect with others.
Young Adult Group: Not your mother's support group. Run by a social worker and physician to address common concerns, questions, and challenges that young adults face, such as managing mood, reducing stress, fertility, managing work, financial stressors, and late effects.
Fitness and Health: Our healthy living programs include fitness classes for all levels and nutrition classes. Or come to us for counseling and referrals to physical therapists and dietitians.
Stress Management Programs: Relax with yoga, meditation, and more.
Social Events: Make new friends at BBQs and other events.
Online Connections: An email list and private Facebook page let you share thoughts with other young adult survivors (contact us to have your email added to the Young Adult list).
Annual Survivorship Conference for Young Adult Cancer Survivors: A free all-day event that explores various aspects of cancer survivorship specific to young adults.
Register for Classes & Groups
---
Explore resources tailored to young adults.