Volunteer Opportunities for Teens and Others.
Life with Cancer does not have volunteer opportunities for children under the age of 18;  however, High School Students (ages 15+) may volunteer at Inova Fairfax Medical Campus.  Volunteer opportunities for college students looking are also available at the Inova Fairfax Medical Campus. 
Cancer Kickin' Critters is a 501 (c)(3) nonprofit created to bring comfort to children in the hospital fighting cancer. They  work with school groups, and Girl/Boy Scout troops, to create small knitted squares that are sewn into animal shapes for children with cancer. They can host a Learn to Knit workshop or Critter Creation Kit Assembly Line at your location so that you can participate in this easy to do and most rewarding endeavor. Contact them at cancerkickincritters@gmail.com !  
Chemo Com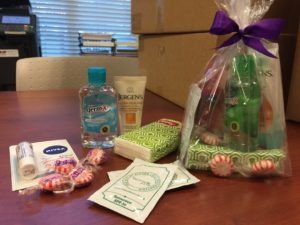 fort Care Packs
This is a great project for school groups. Collect personal size tissues, hand sanitizer, hand/body lotion, individually wrapped peppermints, soft socks (chanille?) and crossword/sudoko/puzzle books. Wrap them in a cellophane.
---
The 2019 Lobster Extravaganza is around the corner. Can you help?
•Thursday, May 2, 10am-2pm: Roll silverware, line bread baskets, inventory and clean centerpieces
•Friday, May 3, 10am-1: Place on tables: liners, cloths, centerpiece, and glassware
•Saturday May 4, 9am-1: Set 1,000 place settings!
•Saturday, May 4: 4pm-10pm "ish": Food Plating                   
Requirements: Comfortable standing for as long 2-hours. Enjoy working with food. Enjoy being really busy and potentially getting somewhat messy
Responsibilities: Pour chowder, drawn butter and place lemons into bowls. Plate lobster, steak, corn, potatoes or onions for professional servers to serve to guests
•Saturday, May 4: 4pm–11pm "ish": Silent Auction
Requirements: Comfortable standing for long periods of time. Outgoing- must enjoy engaging with people. 
Responsibilities: Verify bidders are placing bids in correct increments. Make sure all items are in clear view during open bidding. Answer questions on auction items, auction process, and bidding. Engage in friendly conversation. Assist with post auction activities. 
---
Volunteer Your Reiki Skills
Provide individual Reiki treatments at the Life with Cancer Family Center in Fairfax, VA. Reiki volunteers must have completed Level III training and be available on the second Monday and/or fourth Friday of most months, 6-8pm. Documentation of having received MMR, Varicilla (chicken pox) and Dtap vaccines OR blood test showing immunity to those is required. Also required is a background check and  annual flu shot, TB test. For more information, please contact us.
---
Tea and Talk?
We are looking for some special people for a "Tea and Talk" volunteer opportunity at Inova's infusion clinic near the Life with Cancer Family Center. These volunteers would talk with patients, bring them comfort items like snacks, blankets, etc and just give them some special attention. Potential volunteers must be comfortable in a medical environment where people are receiving chemotherapy treatments and be available for a daytime shift, Mon-Sat.  For more information, Please contact us.
---
Health Fair Volunteer Opportunities
Are you passionate about Inova's Life with Cancer program? Do you like to engage people in conversation? If so, you would be the perfect person to represent us at community health fairs and events. We will provide in-depth training, at your convenience, so that you feel prepared. You can play a huge part in changing the narrative from, "How come I've never heard about Life with Cancer?" to "Yes! Life with Cancer provided great support during treatment and recovery!" Please contact us.
---
Volunteer at Special Events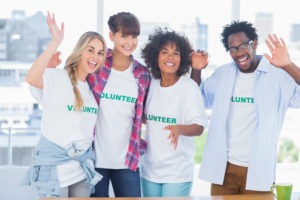 Our special events include dinners, races, fundraisers, and more. These events occur throughout the year, at various locations, on weekdays and weekends, and at various times of day. To add your name to our special events volunteer list or for more information, Please contact us.
---
Be a Breast Cancer Mentor
If you are a breast cancer survivor who is at least one year out of treatment and want to help another, become a mentor with Survivors Offering Support (SOS). You can guide a newly diagnosed breast cancer patient through a difficult time, giving valuable information, emotional support, encouragement, and a shoulder to lean on. For more information, please contact us.
---
Hold a Fundraiser
Host a bake sale, throw a party, do a walk-a-thon, host a dress down day at work—there are plenty of creative ways to raise money and support cancer patients and their loved ones. See fundraising ideas and planning tips.