Program Set Up
A volunteer is needed weekly on Tuesdays, 3:30-6:30 PM. This volunteer opportunity involves set up and tear down of 5 massage tables, and 5 sohji screens used during acupuncture treatments at the Life with Cancer Family Center. There will be some "down time" 4-5:30, during which it will be possible to assist with administrative tasks.
Good with Numbers?
We need someone to help summarize our program evaluations. Must be able to comfortably add, find an average and record qualitative responses. Some familiarity with Excel is helpful (no need to use formulas).
If preferred, this volunteer opportunity can be done from home.
Do You Sew?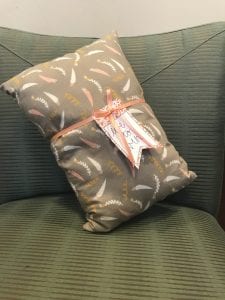 We are in need of "Pit Pillows" to give to women who have had breast cancer surgery.
These 9″x12″ pillows are small, but they make a big difference during recovery from surgery. They are placed under the arm or under the seat belt for comfort. We need quality sewers to start stitching! Please contact us.
Chemo Comfort Care Packs
This is a great project for school groups. Collect personal size tissues, hand sanitizer, hand/body lotion, individually wrapped peppermints, soft socks (chanille?) and crossword/sudoko/puzzle books. Wrap them in a cellophane bad and tie with a ribbon. These packs are both thoughtful and practical for people on chemotherapy. They are distributed in our Inova hospitals and infusion clinics. Questions? Please contact us.
Volunteer Your Reiki Skills
Provide individual Reiki treatments at the Life with Cancer Family Center in Fairfax, VA. Reiki volunteers must have completed Level III training and be available on the second Monday and/or fourth Friday of most months, 6-8pm. A background check, annual flu shot, and TB test are required. For more information, please contact us.
 Tea and Talk?
We are looking for some special people for a "Tea and Talk" volunteer opportunity at Inova's infusion clinic near the Life with Cancer Family Center. These volunteers would talk with patients, bring them comfort items like snacks, blankets, etc and just give them some special attention. Potential volunteers must be comfortable in a medical environment where people are receiving chemotherapy treatments.  For more information, please contact us.
Do you have lovely handwriting?
Please contact us to learn how you can use your handwriting skills to help.
Handyman/woman?
Are you available once a week to help with some minor handyman/woman tasks such as paining scuff marks, changing light bulbs, etc? Please contact us.
Volunteer at Special Events
Our special events include dinners, races, fundraisers, and more. These events occur throughout the year, at various locations, on weekdays and weekends, and at various times of day. To add your name to our special events volunteer list or for more information, please contact us.
Be a Breast Cancer Mentor
If you are a breast cancer survivor who is at least one year out of treatment and want to help another, become a mentor with Survivors Offering Support (SOS). You can guide a newly diagnosed breast cancer patient through a difficult time, giving valuable information, emotional support, encouragement, and a shoulder to lean on. For more information, please contact us.
Teach a Class
Are you a credentialed, licensed professional who would like to donate your time and skill? Please complete our Professional Volunteer Application.
Hold a Fundraiser
Host a bake sale, throw a party, do a walk-a-thon, host a dress down day at work—there are plenty of creative ways to raise money and support cancer patients and their loved ones. See fundraising ideas and planning tips.