Thanks to Sharon Palmer, the Plant-Powered Dietitian, for this tasty AND healthy meal!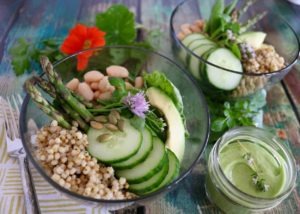 Buddha bowls – light, healthy meals comprised of a whole grain, lots of vegetables, a healthful protein source, and a flavorful sauce – are all the rage.  This bowl combines the star nutrition power of whole grain sorghum and beans with cool green veggies, such as arugula, avocados, cucumbers, asparagus and pumpkin seeds.  Plus, it's topped with a house-made, Green Goddess Dressing. This yields 4 entrée-size servings + 2 tablespoons dressing
Ingredients
Buddha Bowl:
2 cups cooked whole grain sorghum, cooled
1 15.5-ounce can white beans (i.e., Great Northern, cannellini)
1 bunch fresh asparagus, trimmed, sliced
4 cups packed baby arugula leaves
1 medium avocado, sliced
1 medium cucumber, sliced
¼ cup pumpkin seeds
Green Goddess Dressing:
1 1/2 tablespoons plain, unsweetened plant-based milk (i.e., soy, almond, coconut)
1/4 ripe large avocado, peeled, sliced
1/4 cup diced cucumber, with peel
3 tablespoons chopped fresh herbs (i.e., dill, parsley, oregano, basil, thyme, cilantro)
1 stalk green onion, white and green parts, diced
1 small garlic clove
Pinch white pepper
2 tablespoons lemon juice, freshly squeezed
Instructions
To make Buddha Bowls (makes 4):
Cook whole grain sorghum to make 2 cups, according to package directions, and cool, draining any remaining liquid.
Rinse and drain white beans and set aside.
Blanch asparagus by cooking it in boiling water for 3-4 minutes, until tender, but bright green; set aside.
Arrange 1 cup arugula leaves at the bottom of each large, individual serving bowl (4).
Arrange over the arugula leaves in each bowl (4):
¼ of the white beans (about ½ cup)
½ cup cooked, cooled sorghum
¼ sliced avocado
¼ of the cucumber slices (about ½ cup)
¼ of the blanched, cooled asparagus
A dollop (about 2 tablespoons) of Green Goddess Dressing (see below)
Sprinkle with 1 tablespoon pumpkin seeds
Serve immediately.
To make Green Goddess Dressing:
Place all of the dressing ingredients into the container of a small blender and process until smooth.
Makes 1/2 cup (4 servings).
Notes
This recipe is excellent for meal prep by preparing 4 individual servings in sealed containers and refrigerating it to be enjoyed during the week. You can also serve this recipe in one large dish by following instructions and arranging all ingredients in one large salad bowl instead of 4 individual serving bowls. If you prefer more dressing with the bowls, you may double the dressing recipe, and keep leftovers in the refrigerator in a sealed container for up to 1 week.
Nutrition information for 1 serving (Buddha bowl): 372 calories, 8 g total fat, 1 g saturated fat, 0 mg cholesterol, 16 mg sodium, 67 g carbohydrate, 17 g fiber, 3 g sugar, 17.5 g protein
Nutrition information for 1 serving (Green Goddess Dressing): 21 calories, 1 g total fat, 0 g saturated fat, 0 mg cholesterol, 4 mg sodium, 2 g carbohydrate, 1 g fiber, 0.5 g sugar, 0.5 g protein
To visit Sharon's site go to Sharon Palmer The Plant-Powered Dietitian