Breakfast Energy Drink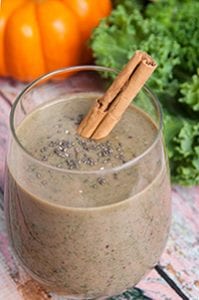 February is Cancer Prevention Month – a time to focus on healthy habits that can lower your risk for cancer and other chronic diseases. Getting more fruit and vegetable servings is one important thing you can do today. And it just got easier. This nutritious breakfast smoothie combines leafy super greens, kale and spinach, with seasonal fruits, nuts and seeds for a cancer-fighting kick-start to your morning. Pumpkin will give you plenty of beta-carotene, a compound important in controlling normal cell growth and preventing
Makes 2 (about 1½ cup) Servings
Per serving: 231 calories, 12 g total fat (1 g saturated fat),
24 g carbohydrate, 13 g protein, 8 g dietary fiber, 111 mg sodium.
 Ingredients
2 medium kale leaves, stems removed
1 cup spinach leaves loosely packed
1/2 cup fresh or frozen fruit
1/3 cup plain canned pumpkin*
3 Tbsp. seeds or nuts
1 Tbsp. chia seeds
1/2 tsp. cinnamon
1/4 tsp. nutmeg
1¼ cups soy or dairy milk
1/2 cup water
6-8 ice cubes (1 cup)
Directions
Combine all ingredients in blender or food processer and blend on high until smooth. Let sit for 1 minute to thicken before serving.