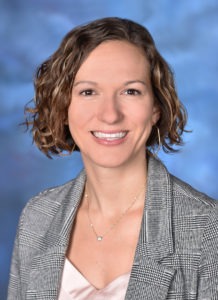 FALLS CHURCH, VA – Jennifer Bires MSW, LICSW, OSW-C, joins the Inova Schar Cancer Institute, a state-of-the-art cancer care destination in the D.C. Metro area, as the Executive Director of its nationally recognized Life with Cancer and Patient Experience programs.
Bires is a rising star in the psycho-oncology field. In 2017 she received the Oncology Social Worker of the Year award from the Association of Oncology Social Work. In addition to overseeing Inova Schar's broad range of Life with Cancer and patient experience programming, Bires will lead efforts to expand Life with Cancer's psychosocial initiatives to ensure patients are able to access patient-centered care and support resources regardless of where they live.
"We are proud to welcome Jennifer to the Inova Schar team and Life with Cancer family, as we deliver compassionate, collaborative and holistic cancer care, customized to the needs of each and every patient," says John Deeken, MD, President of the Inova Schar Cancer Institute. "Her experience as an oncology social worker, providing cross-discipline collaboration and patient-centered care embody Inova Schar's commitment: 'Cancer. Care. We do both.'"
Bires joins Inova Schar from the Washington, DC-based Smith Center for Healing and the Arts, where she served as Executive Director, helping form key partnerships in clinical care and the community, and growing its Arts and Healing Program. She brings over a decade of experience as an oncology social worker, including at George Washington University, where she helped create impactful cancer support programming for families, young adults and patients.
Bires earned her Master of Social Work degree from Washington University in St. Louis. She regularly speaks on a variety of psychosocial topics and has co-written several articles.
Life with Cancer is the nationally recognized educational and emotional support program of Inova Schar Cancer Institute. With locations across Northern Virginia, Life with Cancer offers wellness and exercise programs, seminars, individual and family counseling and nurse navigation to anyone impacted by cancer at no cost, regardless of where they are being treated or where they live. All services are provided by Certified Oncology Nurses and Licensed Clinical Social Workers.
Learn more at inova.org/lifewithcancer