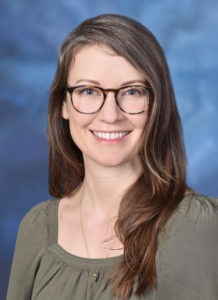 Molly is a Registered Dietitian who has been working with the Inova Health System since April 2020. While she has been caring for patients at the Inova Loudoun Radiation Oncology Center since this time, she officially joined the Inova Schar Cancer Institute and Life with Cancer nutrition team in March 2021.
Molly is a transplant from San Antonio, TX where she completed her bachelor's degree in Nutrition and Dietetics and her Dietetic Internship at the University of the Incarnate Word. Since 2009, she has practiced in a variety of settings, including wellness, weight loss, and sports nutrition, though the majority of her career has been in the inpatient setting where she gained her certification in nutrition support (CNSC).
Molly is thrilled to have discovered her passion for supporting the nutrition needs of oncology patients and is working towards becoming a board certified specialist in oncology nutrition (CSO).