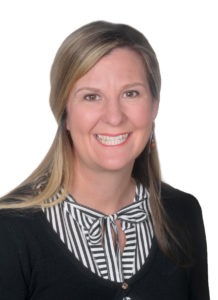 Rebecca DiPatri, RN, BSN, OCN® has twenty years of clinical oncology nursing experience. She earned her Bachelor of Science in Nursing at the University of Virginia where she graduated cum laude. Among her many accomplishments, Rebecca has presented at national conferences for the Oncology Nursing Society (ONS) and Association of Oncology Social Workers (AOSW). She has served on national advisory boards for ONS and contributed to the development of a national toolkit for oncology nurse navigators. She has been an ONS manuscript peer reviewer and authored for the AOSW Navigator. Rebecca is also actively involved in her local ONS Northern Virginia chapter. In her current role as an oncology nurse navigator, Rebecca represents Life with Cancer on the inpatient setting on the Inova Fairfax Medical Campus and co-facilitates support groups.
Rebecca specializes in managing the complex care of patients diagnosed with leukemia, lymphoma, and multiple myeloma and offering support and education to both patients and families. Her experience further extends to allogeneic and autologous stem cell transplantation.
Rebecca has a specialized clinical interest in fertility issues related to cancer diagnosis and treatment and facilitates fertility preservation among the adolescent/young adult cancer population. Her clinical interest further extends into supporting the sexual health care needs of cancer patients. Through Moffitt Cancer Center, she completed training through the Enriching Communication Skills for Health Professionals in Oncofertility (ECHO) Program. Presently, Rebecca is also enrolled in the University of Michigan School of Social Work Sexual Health Certificate Program to further advance her skills and enhance sexual health programming and support offered at Life with Cancer. She is passionate advocate for the entire well-being of all cancer patients.
Rebecca brings to Life with Cancer extensive clinical experience, unparalleled compassion, and the hope and support necessary to help patients and their families as they prepare for life after diagnosis. Rebecca is honored to be part of an incredible interdisciplinary team committed to supporting those affected by cancer.