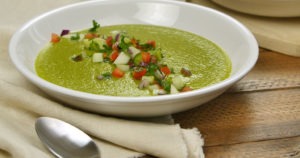 This refreshingly cool soup boasts crisp zucchini and creamy avocado.  Fiber from summer squash and the avocado's healthy monounsaturated fat help you fill up and stay fuller longer.  The vegetable broth and onion base, along with creamy almond milk, provide a delicious flavor boost but still keeps it to only about 100 calories per serving.  Top with a cucumber salsa for a fresh contrasting crunch.
 Ingredients
4 (1 cup) Servings
For the Salsa:
1 peeled and finely diced medium cucumber(about 2 cups finely diced)
2 tablespoons lime juice(from about 1 to 2 limes)
1/2 cup chopped cilantro or chopped parsley
For the Soup:
2 medium zucchini(around 3 to 4 cups chopped)
½ cup thinly sliced green onion, divided
1 avocado, halved and pitted
¾ cup unsweetened plain almond milk
1 cup low-sodium vegetable broth
1/8 tsp. ground cumin, optional
1/8 teaspoon salt
1/8 teaspoon black pepper
Directions
For the Salsa:
For the Soup:
Peel and roughly chop the onion; trim the ends off each zucchini and roughly chop too.
In a large saucepan, over high heat, combine broth, zucchini and ¼ cup onion. Cover and bring to a boil.  Uncover, reduce heat and let simmer 6 minutes or until zucchini is tender.  Remove from heat and set aside for 20 minutes.
In a blender, combine zucchini mix, avocado, cumin (if using), remaining 1 Table spoon lime juice and almond milk. Cover and puree until smooth.  Leaving soup in blender, refrigerate it for 2 hours.
When ready to serve, re-blend soup. Additional almond milk for thinner consistency, if desired.
Pour into serving bowls. Top with salsa and serve.
PER Serving: 108 calories, 7.5 g total fat (1 g saturated fat), 10 g carbohydrate, 3 g protein, 5 g dietary fiber, 285 mg sodium
Reprinted from: American Institute for Cancer Research